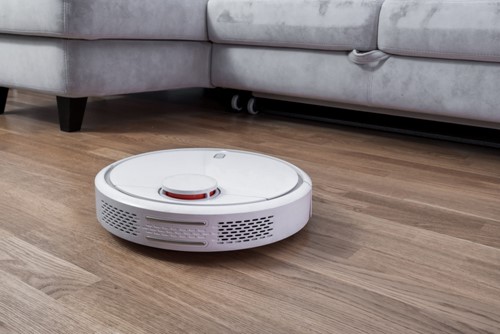 Photo by Andrey Bryzgalov via Shutterstock
We've learned to use voice controls in our cars for hands-free calling, but what about in our homes? Alexa, Google Assistant, Echo and Siri are for more than simply using your voice to switch on the lights or control the temperature. Here are more ways to control your home with the sound of your voice.
Vacuum or Mop
With a robotic mop or vacuum controlled by your device or remotely from your smartphone, you can wipe up spills or clean up the pet hair while you're at work.
Power Usage
Appliances plugged into outlets use a surprising amount of power throughout the day. But if your device connects to a smart power strip, you can turn off individual outlets from a distance. That way, the slow cooker starts right on time but doesn't waste power all day. Or set outlets on a timer so that your bedroom fan turns on just before bedtime, or the television automatically shuts off when it's time for the kids to go to sleep.
Activate a Digital Butler
When you're at home and can get to it, you'll answer the door. But what if your 9-year-old lost their keys and can't get in after school. Or you're in the kitchen kneading bread when your mother-in-law pops over. You can see who's there or open the door with your smart device and a smart lock on the door. Now, when the package arrives, you can arrange for internal delivery. Let your buddies in without missing the big play. It's all under your command. You can even lock the door just in case you forgot before you went to bed. Call out and let your voice handle it.
Retrofitting your home to be a smart home can increase its value, so be sure your agent knows all the things your home can do.