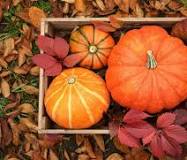 Fall is officially here! Growing up in the Northeast (NY) , I remember this is the time of year when the temperatures start to drop and the leaves on the trees turn pretty fall-like colors (red, orange, yellow, green, brown). Apple picking and pumpkin picking season begins.
The beginning of Fall season in the United States (Northern Hemisphere) starts on the autumnal equinox, also known as the Autumn Equinox or Fall Equinox. The autumnal equinox is the day when the hours of daylight equals the hours of nighttime. Days start to get shorter.
Fall usually ends in 3 months and then winter begins. Fall has been called the Harvest because of the timing of the farmers starting the harvest of their crops in late summer and into the cooler months before winter. I loved the fall during my first 48 years of living there although I never liked the winter that followed when there was snow, ice and we needed to bundle up to stay warm. Here in AZ, fall and winter is a delightful season to do outdoor things.
Let's welcome the season of Harvest Festivals and give thanks for the bountiful crops! Time to enjoy pumpkin spice lattes, fresh cranberries and delicious pumpkin pies- Fall is the season to get COZY! Did you know? Pumpkin spice, a popular fall flavor, doesn't contain any pumpkin at all! It's a blend of warm spices like cinnamon, nutmeg, and cloves. Sorry to spoil the surprise for you....