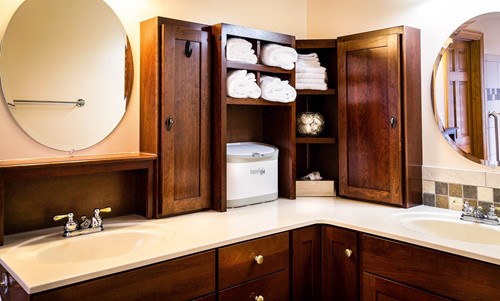 Photo by JamesDeMers via Pixabay
Having a well-organized bathroom is a homeowner's dream. To get your bathroom organized you just need a little time and effort, and the will to rid yourself of a few unnecessary items.
Purge — Everyone has a tendency to over-purchase and overstock on bathroom products every once in a while. In order to really organize your bathroom items in a useable way you'll need to pair-down to what you actually use. If you can't make yourself give away the items you don't really use, gather them in a storage container and put them in the back of the cabinet until you're ready to purge them. Once you have all the items you use set aside you can further divide them to begin organizing.
Organizers and Containers — When you know how much space and the type of items you need to store, you can determine what organizers to buy. Decide what items need to live on the counter or vanity and what items are best placed in drawers and cabinets.
With a couple simple steps, you can keep your products clean, organized, easy to use and put away again. Enjoy getting ready for work or to go out while saving on time and stress.